Abous Us
Meet Dr. Si-Woon Park, DDS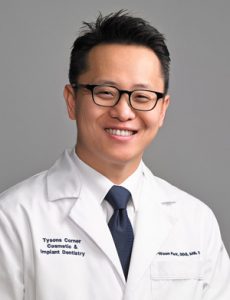 Welcome to Tysons Corner Cosmetic and Implant Dentistry!
We are committed to providing you with the highest quality of dental treatments in a gentle, efficient and knowledgeable manner.
Dr. Park is a board certified Prosthodontist, who is a dental specialist in the restoration and replacement of teeth. Extensive training and education provide prosthodontists with the skills for restoring optimum function and esthetics to your smile. These include: crowns, bridges, veneers, inlays, complete and removable partial dentures, dental implants, TMD-jaw problems, traumatic injuries to the mouth's structures and/or teeth, snoring and sleep disorders.
Certificates of Completion
Our Advantages
Accepting Insurance
Cards
Our clinic can easily accept the customers with insurance cards and create the history of cases for each.
Using Innovative
Technology
All our surgeries are furnished with state of the art equipment and maintained at the highest standards.
Guarantee Success
of Treatments
Most of our treatments are covered by a long term guarantee which will be discussed with you before beginning treatment.
Certified Dentist
Doctors
With over 17 years of dental experience and experience with implants, we are experts in all facets of dentistry.
Our Happy Patients
His keen knowledge of dental implants, his professional manner and the detailed dental plan he created for me resulted in a very successful outcome. I have encouraged other members of my family to seek Dr. Park's service and they also have been very pleased. I would recommend Dr. Park to anyone desiring to enjoy a state of the arts facility to service patients…
My experience with Dr. Park and his staffs was 5 stars. Staffs are pleasant and helpful, … Love this dental office. Will definitely recommend him highly to my friends. Thank you soooo very much.
Dear Dr. Park,
Thank you very much for the long waited new bridgework… Over all in my experience in last couple of years with you was a nice, warm, kind and dependable. Most of all, I count on your professionalism. Faithfully,
Dr. Park and his staff are very caring. They are sensitive to my concerns. Dr. Park is very talented. My smile is beautiful thanks to his attention to detail.
Words cannot express how grateful I am to you and your staff for my awesome dental Work! From scheduling, check up reminders, the great technology you use, the extremely clean office to the red exam chairs you guys are the best! Thank you!
Dr. Park as you are aware, my wife and I both turn 85 this year, as part of the aging process. I have dealt with my share of health related issues …. You were recommended to me by the head of the University of Maryland Dental School. To quote, "Si-woon Park was the best student he ever had." Lucky me to be a very appreciated patient and now friend.
Greetings Dr. Park,
About five years ago, I walked into your office for my first appointment with you…I plan to continue to be your patient as long as you are still in practice!
Online Appointment Requests